Screenshots and videos
From Yade
If you are working with yade, please upload some of your screenshots to show others your work!
Videos
If you click on one of the following links, you will be redirected to a page that contains the videos:
Screenshots
Uniaxial tension/compression test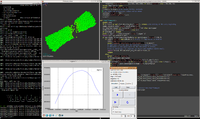 This example can be found in examples/concrete/uniax.py

Jointed/Fractured Media
YADE can be used to model media containing pre-existing fractures/discontinuities. The module was initially developed for the study of fractured rock masses as described in refs [1], [2] and [3].

Discrete fracture network (DFN) can be imported as meshed surfaces and embeded into a predefined intact medium consisting of bonded particles. Interactions located across a discontinuity surface are identified and their behavior can be adjusted according to the user's choice (cohesive, frictional,...). An option provides the possibility to orientate the contact geometry in agreement with the discontinuity surface to get rid of the particle shape (for more details, see refs [1], [2] and [3]). An example showing how to use this module is provided in example/jointedCohesiveFrictionalPM/
[1] http://dx.doi.org/10.1016/j.jmps.2011.01.009
[2] http://dx.doi.org/10.1016/j.ijrmms.2012.02.009
[3] http://dx.doi.org/10.1111/j.1365-246X.2012.05642.x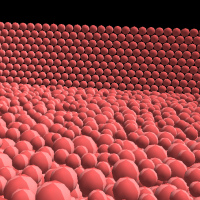 Yade is now (2007) good enough to produce some results. Those results are at first compared with results from other numerical computations software, then with real-world experiments. Several articles are planned to be written about it. For now you can have a short glance at what kind of results we can produce so far. Bear in mind that this is just a quick look at screenshots and nothing more.